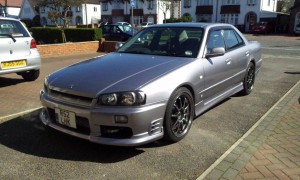 "Bought some Zeta-S from Jerrick a couple of weeks ago and had them fitted by Andy from Millers Autocare in Epsom. Been driving around it the car for over a week now and what a massive difference from lowering springs and stock shocks. The Meisters are great, the car looks better, ride isn't as harsh as I thought it may have been and handling is now awesome.""Excellent customer service from Jerrick and crew at Meister."
Performance on Road?
"Great on the road so far."
Performance on Track?
N/A
Value for Money?
"Yes, can't complain about the price."
Would you buy again?
"Yes"
Shaks from Slough.
Car Make and Model: Nissan Skyline ER34 GTT 4 Door.
MeisterR Coilovers Model: Zeta-S.
Forum: www.skylineowners.com.